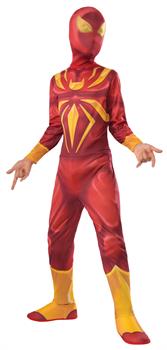 Iron Spider Boy's Costume
Popular Choice
1 Purchases in last 24 hours!
Product Description
Designed by Tony Stark and given to Spiderman during the Marvel Civil War era, this style of costume remains very popular with Spider-Man fans and is sure to be a fun one for your child to wear. Jumpsuit with boot tops and mask. Child size small fits sizes 4-6.
Timeless comic book superhero and an intelligent nerdy who cannot leave anyone in trouble. Lets cheer for the most popular Superhero among kids and adults. This Superhero loves to swing from one building to the other building. He is certainly the most timeless comic character and remembered always for his amazing fights with the city villains. Spiderman is still carrying his classic look since last 50 years so pick a Spiderman suit and be a timeless classic superhero.
You can't think of any boring theme outfit if you are shopping for your boy. Boys always look for adventures in party outfits as well.
Travel to a new world of your imaginations with Iron Spider Boy's costume.
---