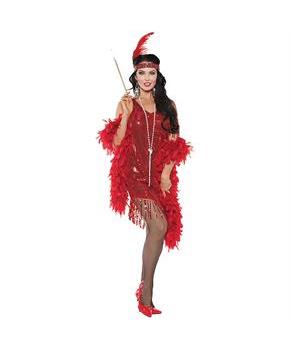 Women's Flapper Costume
Product Description
The perfect dress for any 20s swing party or Gatsby event! Fully sequined on front and back of red mini dress with sequin fringed trim and matching sequin headband. Red. Fits adult womens small sizes 6-8.
Includes:
Cigarette holder, shoes, pearl necklace and boa not included.
You can never ignore these dashing and sparkling flapper costumes with oozing style. Elegance comes handy with these gatsby outfits and rocking dance moves. This is the typical 1920s flapper dress with flowing fringes and sequins.
Are you looking for a super popular costume for yourself? Plan for a night with excitement, chills and adventure in a special costume.
You might explore more costumes but you will definitely fall in love with our Women's Flapper costume.
---