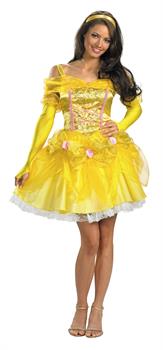 Women's Belle Costume
Product Description
Dress with lace petticoat, full-length fingerless glovettes, and headband.
Includes:
Bonjour! Shoes not included.
Women's small 4-6.
Beauty and the Beast fairytale always live in our imaginations and we always want to see more such fantasies. If you are a big fan of Disney classic stories then you will definitely love Beauty and the Beast costume theme. Transform yourself in the most beautiful prisoner of a beast and impress everyone with beautiful voice.
Are you dreaming about getting a themed look for Halloween eve? Then go for this costume. Flaunt your style and sway with fun in an amazing outfit.
Compliment yourself with a new dramatic look in Women's Belle costume.
---