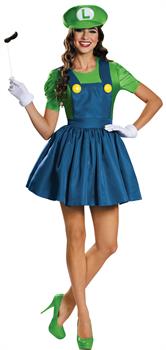 Women's Super Mario Luigi Costume
This Product is currently out of stock!
Product Description
Here is a sassy girl version of Mario's younger sibling, Luigi! Blue dress comes with a pair of white gloves, Luigi character hat and a fun mustache on a stick! Large fits sizes 12-14.
Super Mario is the most popular classic video game from 1980s period. All characters from this game are still famous for their peculiar looks. Mario and Luigi plumbers always fight with creatures to save princess peach. Super Mario is the Mushroom king and got huge responsibility of saving princess peaches.
Looking for a night full of drama and dance? Then join the party in this costume. Women always look for colorful and innovative party dress.
Bring more smiles and sparkles in eyes with Women's Super Mario Luigi costume.
---
View more Products in Below Tags:
---