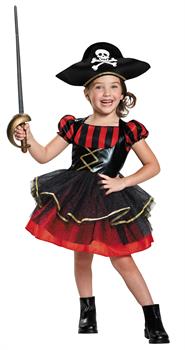 Girl's Preocious Pirate Costume
This Product is currently out of stock!
Product Description
This costume answers the question 'why do boys get to have all the fun being a pirate' with a resounding 'never again'! This cute pirate costume will look so great on your little pirate princess you will be looking for a boat to take on the high seas! Dress with red and black striped top with shirt sleeves and black overlay with petticoat and black pirate hat.
Includes:
Sword and shoes not included.
Fits female child sizes 2T.
---