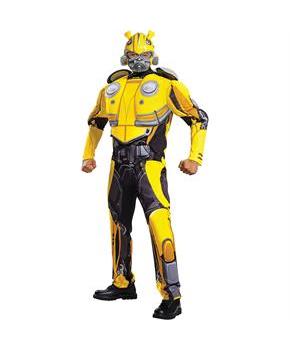 Bumblebee Adult Muscle Costume 42-46
Popular Choice
3 Purchases in last 24 hours!
Product Description
The popularity of Transformers has spanned generations and now fathers who loved them are able to watch the new movies and TV shows with their kids. This new costume is based on the upcoming movie and should continue the enjoyment as it becomes the most popular Halloween costume this year! Bumblebee's costume is a yellow, gray, and black jumpsuit with padded torso and arms and 2-piece helmet. Fits adult sizes from 42-46.
Let not evil Decepticons enter on earth and you will surely defeat them in Autobots disguise with your full powers. Transformers, autobots, bumblebee, optimus prime and all names related to transformers movie sounds so fascinating to everyone. How about a fabulous Halloween costume in transformers theme? Saving earth should be your sole mission as you are a brave Transformer with amazing strength.
Cool guys need coolest costume theme ever and you will find same right here. We are sure that this year you want a more rocking party costume so we are here with same.
Make your costume party successful and memorable with Bumblebee Adult Muscle 42-46 costume.
---