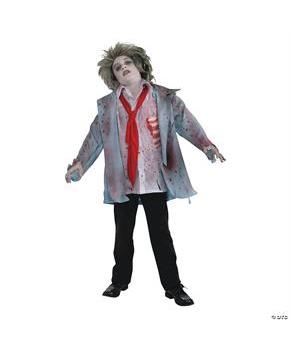 Boy's Zombie Costume
Product Description
Goulishly clever costume that comes with a tattered suit jacket, attached bloody shirt front with exposed bloody ribs, and a red necktie. Medium fits child size 10-12. 100% Polyester. Care instructions: Hand wash with cold water and mild detergent, line dry, do not bleach, do not iron.
Crawl like a zombie on the streets and scare people around you. People might run in fear when they see a ghost. But one look at zombie will freeze your moments with horror. How about becoming an undead fellow and get ready for trick or treat for Halloween eve?
Bring more smile of your kid's face with these amazing party outfits. Get your boy ready for special trick or treat for Halloween eve in this costume.
If you are interested in hiding identity and surprising everyone then why not dress up in Boy's Zombie costume.
---