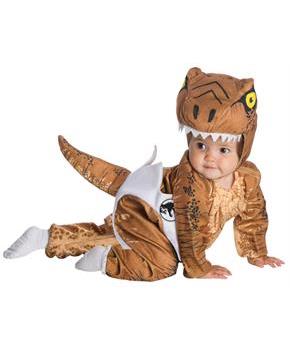 HATCHING T. REX INFANT COSTUME
Product Description
Official Jurassic World movie licensed costume! Soft jumpsuit has what appears to be half an egg shell attached as though this baby just popped out! Separate headpiece has a T-Rex head with painted eyes for a very cute look! Infant size fits babies 6-12 months. Care instructions: Hand wash cold, hang dry. No bleach. No iron.
Add fun to your costume party with this amazing dinosaur costume and make sounds like a trapped dino with humans. Are you a big dino fan? Then get yourself a wonderful dinosaur costume and get maximum clicks for extreme fun. Dinosaurs were not disastrous but they just wanted to wander in wild forest peacefully without any disturbance.
Babies got high fashion sense too. So you can't just pick up any outfit for them. We got perfect cuddly costumes for little kids.
You can also become a popular face among our friends with our HATCHING T. REX INFANT COSTUME costume.
---