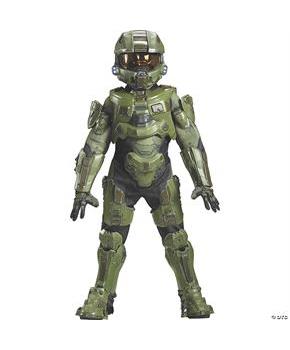 Master Chief Ultra Prestige Ch Costume
Product Description
Save humanity and defeat the covenant. This super deluxe quality Master Chief costume is perfect for Halo fans! Get in on the action when you dress up in one of the most realistic Halo costumes. Become the greatest Spartan of all time, John-117 with this 26 piece costume set and turn you into your favorite gaming character.
Includes:
The Halo Master Chief Ultra Prestige Child Costume features a 26-piece set that includes a green hooded jumpsuit, light-up helmet, chest piece, back piece, cod piece, seat piece, and pairs of: gloves, shoe covers, thigh pieces, shin pieces, jet packs, upper arm pieces, elbow and gauntlet pieces.
© 2020 Microsoft Corporation.
All Rights Reserved.
Microsoft, Halo, the Halo logo, Xbox, the Xbox logo and 343 Industries are trademarks of the Microsoft group of companies.
Includes: Light-up full helmetMolded plastic armor for realistic look Printed hooded jumpsuit has zip up back26 piece costume setPackaging: Box, Custom - Design Needed Based On Components.
---