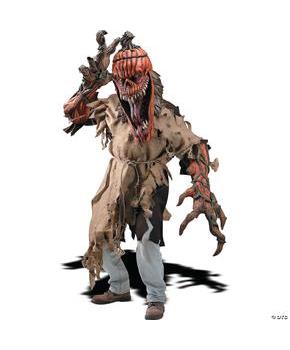 Men's Bad Seed Creature Reacher Costume
Product Description
A truly terrifying creation. Pumpkin alive. Pumpkin style mask with gaping mouth and slithering tongue.
Includes:
Includes latex mask, arm/hand extensions, undershirt, burlap-look overshirt and rope belt.
One size fits most adults.
What a spooky sight with howling black cats and rustling leaves? Add some more flavor to this night with this gruesome spooky costume. Are you looking for ghostly and freaky creatures in your neighborhood? Are you waiting to hear harrowing sounds in your backyard? If you love spookiness so much then get this scary disguise and jump into Halloween parties. Are you a big fan of horror movies? Do you love to watch terrifying creatures on big screen? Then you will just fall in love with this amazingly spooky outfit.
Which character inspire you most? Are you willing to dress up like your favorite character this year? Everybody loves a nicely dressed man. But Halloween is not about nice clothes. What do you say?
Show your creative mind with Men's Bad Seed Creature Reacher costume.
---