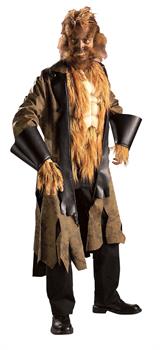 Men's Big Mad Wolf Costume
Product Description
Weathered, leather-look, long coat has chest with hair attached and wolf headpiece. Add your own black pants. Adult Standard size (38-44). Polyester.
What a spooky sight with howling black cats and rustling leaves? Add some more flavor to this night with this gruesome spooky costume. Horror, magic and mystery are three important ingredients to have a wonderful Halloween eve. Add this spooky costume as the fourth ingredient and you will surely have a blast with your buddies. No one can dare to terrify you if you will get dressed in this spooky costume. This outfit is certainly the best one to enjoy Gothic night with your spooky friends.
We are giving you some curated choices in party costumes . This will not give you goose bumps. But will get you all attention in the party?
If you are interested in hiding identity and surprising everyone then why not dress up in Men's Big Mad Wolf costume.
---