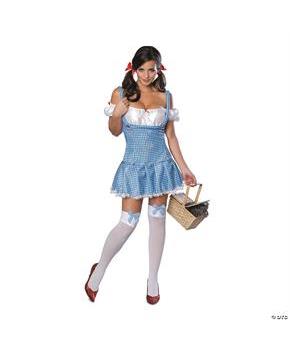 Women's Wizard Of Oz Dorothy Costume
This Product is currently out of stock!
Product Description
Sparkly holographic blue checked dress with attached white peasant top and 2 red hair bows. Extra small fits sizes 0-2.
Are you in love with ruby slippers, cute scarecrow, flying monkeys, Emerald city, good witches, bad witches and mysterious wizard, then you will find The Wizard of Oz costumes very admirable. The Wizard of Oz movie theme costumes are perfect for kids and adults. One can feel the magic of fairy tales and storybook characters with this theme. The Wizard of Oz movie is a classic example of an overwhelming mysterious tale which always amazed its viewers.
Treat yourself nicely and wear a costume which will get you beautiful compliments. We got a very clever and comfortable costume idea for you. Just keep scrolling down and you will see it soon.
Click your adorable pictures in Women's Wizard Of Oz Dorothy costume and cherish these memories always.
---