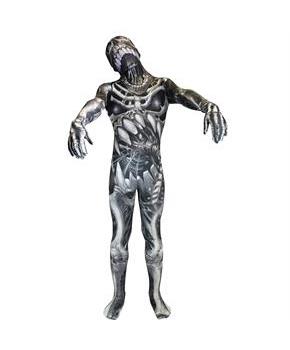 Men's Skull N Bones Morphsuit
Product Description
New from Morph, and part of their Monster Collection is this intense morphsuit that makes you look like a skeleton with eyes on it's chest and a huge gaping maw that may swallow you! Great for Halloween and whenever you want to shock. Fits large size adult males with a waist size of 36-38", a chest size of 42-44" and a height of 71.5".
Skeletons is good at frightening people and making ghostly sounds. But nobody knows that they love to dance on the dance floor and they love to have Halloween candies too. Do you enjoy skeletons scaring people on big screens? Then you will love this skeleton disguise as well for perfect Halloween night. Don't just pick up any scary costume but take this horrifying Halloween party outfit and get ready for skeleton dance.
Men always search for unique and expressive costumes. Are you sure you can handle this look whole night? If yes then you will definitely fit in this costume.
Lifetime adventure comes with small memories and Men's Skull N Bones Morphsuit costume will give you amazing memories to remember.
---
View more Products in Below Tags:
---