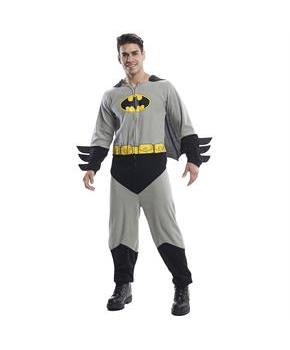 Men's Batman Onesie Costume
Product Description
Everyone can be a superhero in their dreams, and with this new Batman onesie you'll get your chance! Perfect for sleepovers or maybe just a quick-change before fighting crime - this costume's perfect for you. Gray and black jumpsuit with Batman insignia in middle of chest and half cape. Fits mens adult standard sizes 42-44.
Batman dedicated his life for Gotham city people and now he is coming to show some of his favorite fighting styles. Sit tight and pay attention to your favorite superhero's action scenes. Batman is a popular superhero in DC Comics since 1939. Let the thrilling adventure begins with our favorite superhero, Batman the Dark Knight and let him defeat his greatest enemies once again.
Which character inspire you most? Are you willing to dress up like your favorite character this year? Show your wacky style in the party with this popular costume and be the party king tonight.
Be yourself and enjoy a dramatic appearance with Men's Batman Onesie costume.
---