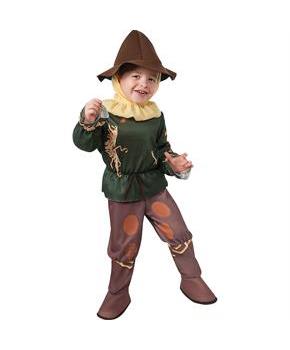 Toddler Wizard of Oz Scarecrow Costume
Product Description
The classic children's movie The Wizard of Oz will come to life for your child thanks to this great Scarecrow costume! Headpiece, shirt and pants with attached boottops. Fits toddler sizes 2-4T.
Are you looking for a creative and interesting Halloween costume theme? Then buy this scarecrow costume and impress your buddies. Scarecrows are not just for keeping away the birds from the golden harvest. Well, scarecrows would love to have a party as well with other spooky buddies. Grab a classic Halloween look with this scarecrow costume. You do not have to put patches on your clothes and make a straw hat. Just choose your favorite scarecrow outfit from here and you are good to go.
Time starts for extreme cuteness and adorable pics for your baby with comfortable Halloween costumes. Babies got high fashion sense too. So you can't just pick up any outfit for them.
You deserve to look totally cool and different in Toddler Wizard of Oz Scarecrow costume.
---