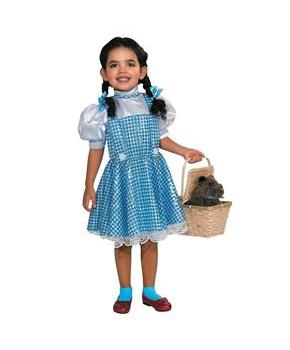 Sequin Dorothy Child Costume
Product Description
Now your little girl can become the heroine from the classic movie The Wizard of Oz! Blue dress and two hair bows with holographic sequins. A strikingly beautiful costume. Large size 12-14.
Includes:
Stockings, shoes, and Toto not included.
The Wizard of Oz movie theme costumes are perfect for kids and adults. One can feel the magic of fairy tales and storybook characters with this theme. The Wizard of Oz movie perfectly described the dreams of every child which was sometimes filled with fear about losing their way to the home or getting lost in an unknown territory. The Wizard of Oz movie is a classic example of an overwhelming mysterious tale which always amazed its viewers.
Is your little girl too cute to spook? Then let her wear this fabulous stylish Halloween costume. Your kid deserves a special costume for upcoming costume party.
You can also become a popular face among our friends with our Sequin Dorothy Child costume.
---