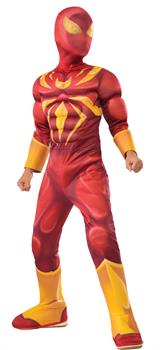 Boy's Iron Spider Costume
Product Description
Includes:
Designed by Tony Stark and given to Spiderman during the Marvel Civil War era, this style of costume remains very popular with Spider-Man fans and is sure to be a fun one for your child to wear! Costume includes a padded muscle chest jumpsuit with velcro back closure, attached boot tops, and a character hood with velcro closure.
Charater hood has mesh eyes for visibility and small holes in the mouth area.
Child size large fits sizes 12-14. Care instructions: Hand wash cold water, dry flat.
Do not iron or bleach.
Grab all attention and jump up high as you are a Spiderman today. We always find it very hard to choose among favorite Superhero. But it is very hard not to be a Spiderman's fan as he is the most classic and popular Superhero character. Spiderman is still carrying his classic look since last 50 years so pick a Spiderman suit and be a timeless classic superhero.
Is your boy interested in a big screen look this year? Then this costume should be perfect for him. Get your boy ready for special trick or treat for Halloween eve in this costume.
If you are looking for a classic and gorgeous costume than choose Boy's Iron Spider costume.
---