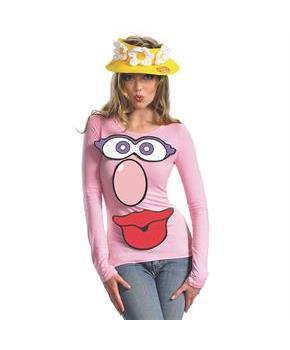 Mr. and Mrs. Potato Head Adult Costume
Product Description
Mr. and Mrs. Potato Head character hats and seven t-shirt stickers (2 noses, 2 sets of eyes, lips, teeth and a mustache).
Includes:
T-shirts and pants not included.
Add your own! Adult one size fits most.
You can never imagine how your toy feels for you but you can always enjoy a Toy theme party and show your affection to your toys. Toy Story movies gave immersive big screen experience to animation lovers with a very heart touching stories. Join your toys for great adventures and ultimate fun in a party.
Women love to acquire a picture perfect look for costume parties. Experience a delightful evening in an amazing costume and feel like a special person.
Bring more shine to eyes and dimples on your cheeks with Mr. and Mrs. Potato Head Adult costume.
---