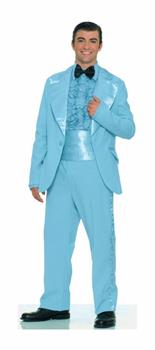 Men's Prom King Costume
Product Description
Jacket, shirt front, bow tie, cummerbund and pants. What a look! Adult standard size fits up to chest size 42.
1950s brought various fashion styles for people and first time people started choosing clothes as per their taste. You can also celebrate beginning of real fashion by picking a 1950s theme costume. Feel fabulous and enjoy cool retro costume for your next costume party. 1950s theme brought some amazing clothing styles. Who not try these for fun? 1950s costume theme is really popular for retro parties. It's a great way to experiment with your looks and appearance.
This will not give you goose bumps but you will get all attention in the party. Men costumes always get attention for their make and style.
Make your costume party successful and memorable with Men's Prom King costume.
---