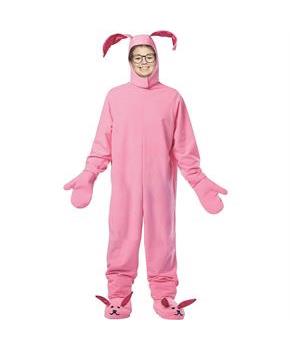 XMAS BUNNY CHILD 7-10 COSTUME
Product Description
Ralphie may not have loved his bunny suit, but the rest of the world did! Your toddler will look just as cute in this bunny onesie just like the one in the timeless classic, "A Christmas Story." Costume features a soft polyester bodysuit with hand mittens and matching headpiece with floppy bunny ears.
Includes:
Includes glasses and shoecovers.
Childrens fits sizes 7-10.
Easter bunny is here with a basket full of colorful eggs so gather your children for Easter celebration. Its going to be a fun day with hopping bunnies and happy faces. Is it a mischievous grin or you are actually going to jump with happiness? Show your love and fascination for cute bunnies with this amazing bunny costume.
Let him wander in his imaginations and dress up like one of his favorite character. Its time to let him enjoy costume parties with his friends and let him decide for his favorite costume.
Enjoy your special and unique look with XMAS BUNNY CHILD 7-10 COSTUME costume.
---