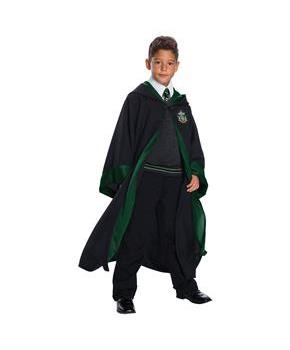 SLYTHERIN SET DELUXE CHILD COSTUME
Product Description
Look just like you stepped out of your favorite Harry Potter movie with this great new Slytherin student set! Slytherins tend to be ambitious, shrewd, cunning, strong leaders, and achievement-oriented. They also have highly developed senses of self-preservation. This means that Slytherins tend to hesitate before acting, so as to weigh all possible outcomes before deciding exactly what should be done.
Includes:
This set includes robe, deluxe heather knit sweater, and deluxe tie.
Add your own shirt and pants.
Fits child large sizes 12-14.
Halloween parties are always magical and spooky. How about wearing a Harry Potter theme costume and enjoy some magic spells? Harry Potter characters seem to be otherworldly but they do inspire all kids and teenagers with their brave acts and magic. Fantasies always put a big smile on our faces and twinkling shine in our eyes.
Imagine your boys in the coolest ever costume and you will find same here. Party excitement always start with buying a favorite costume for boys.
You can't look more prettier in our SLYTHERIN SET DELUXE CHILD COSTUME costume.
---
View more Products in Below Tags:
---