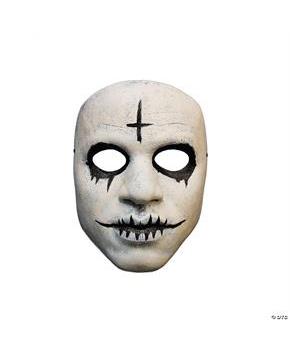 THE KILLER INJECTION MASK
Product Description
This guy needs some sun, wouldn't you say? It might make him a little happier if he got some vitamin D. This officially licensed Anarchy Killer Mask is designed for the movie The Purge. The injectable molded plastic used to make this mask allowed all the details to detail come to life. The pale skin, blackened painted eyes , stitched mouth and the upside down cross brings the authenticity home. This is a Purger who means business. This easy to wear mask, securely fits your face by the attached band located from ear to ear behind your head. This makes it easy to remove. Slip it on and purge your family of all their Halloween Treats.
© Universal City Studios LLC. All Rights Reserved.
Includes:
Includes: (1) MaskOfficially LicensedFits most wellMade with injectable molded plasticEasy to removePackaging: Hang Tag.
Are you a horror night fan? Do you love to watch crawling zombies and flying witches on their brooms? Do you like Jack-O-Lanterns smiling bright on Halloween night? Then you would surely love this spooky costume mask. Are you looking for a monstrous mask or scary reaper mask for Halloween party? Just check this super horrifying mask and give goose bumps to your buddies with your deadly appearance. Are you looking for ghostly and freaky creatures in your neighborhood? Are you waiting to hear harrowing sounds in your backyard? If you love spookiness so much then get this scary disguise and jump into Halloween parties.
Men costumes got lots of varieties and they are ready for new experiments with looks. Halloween costume masks always give a chance to have a mysterious appearance. Conceal your identity and give a big surprise to your friends in Halloween party.
You deserve to look totally cool and different in THE KILLER INJECTION MASK mask.
---
View more Products in Below Tags:
---