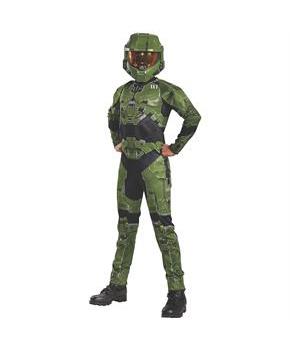 Master Chief Infinite Classic Costume
This Product is currently out of stock!
Product Description
Dress up as your favorite video game character from Halo Infinite. This Master Chief Infinite suit will transform you into the greatest Spartan soldier of all time. Set out on an adventure to save humanity.
Includes:
The Master Chief Infinite Classic Child costume includes a green and black jumpsuit with character half mask.
© 2020 Microsoft Corporation.
All Rights Reserved.
Microsoft, Halo, the Halo logo, Xbox, the Xbox logo and 343 Industries are trademarks of the Microsoft group of companies.
Includes: Elastic band on mask for secure fitLong sleeve printed jumpsuit for realistic lookHook and loop closure on back of jumpsuitOfficially LicensedPackaging: Disguise-B160G7-15"X11.25".
---