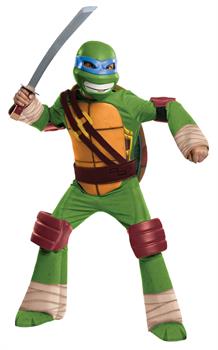 TMNT Leonardo Boy's Costume
This Product is currently out of stock!
Product Description
Cowabunga dudes! Check out this radical new deluxe costume for Leonardo of the Teenage Mutant Ninja Turtles! Jumpsuit with molded chest and shoe covers, elbow and knee pads, belt and mask. Fits child large sizes 12-14.
Ninja Turtles adventures begins with crazy characters and horrifying creatures. Show everyone your tough side and get ready to become one of the ninja turtles in a perfect costume. Have fun with Raphael, Leonardo, Donatello and Michelangelo to learn fighting skills.
Give him a special gift of his favorite character's costume. Boys always look for adventures in party outfits as well.
Lifetime adventure comes with small memories and TMNT Leonardo Boy's costume will give you amazing memories to remember.
---
View more Products in Below Tags:
---