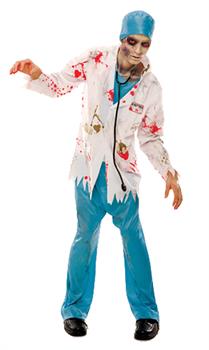 Men's Zombie Dr Rotten Costume
Product Description
Coat, pants, hat, and makeup for the look shown. Medium fits 42-44.
How about becoming an undead fellow and get ready for trick or treat for Halloween eve? Are you getting ready to face horrifying creatures on the streets for Halloween eve? Then first wear this scary zombie costume to be one of them and enjoy. You will not even dream about slobbering zombies walking on the streets because they look terrifying in imagination.
Get ready to relive your precious moments with this costume. Dressing up like a popular and iconic character means to get lots of clicks.
Transform yourself into the most coolest popular character with our Men's Zombie Dr Rotten costume.
---