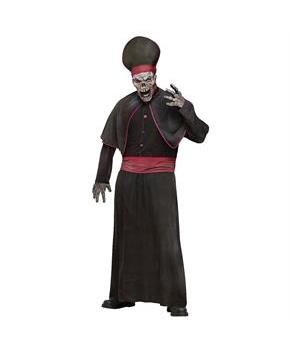 Zombie Priest Costume
Product Description
One of the most fearsome costumes you will ever see, this zombie high priest should help whoever sees you get close to the Lord real quick.
Includes:
Includes black robe with capelet, belt, mitre hat and zombie mask and 2 zombie gloves.
Shoes not included.
One size fits most up to 6'/200 lbs.
Look many monsters, witches, ghouls, vampires and skeletons are joining you for Halloween eve. Now you must take out your zombie costume and be ready for spooky party. You will not even dream about slobbering zombies walking on the streets because they look terrifying in imagination. Zombies cannot smile as they can only bite people and walk like zombies.
Get ready to relive your precious moments with this costume. Our party costume will definitely save your day from lots of hassles.
Be your favorite and enjoy a wonderful party time in Zombie Priest costume.
---