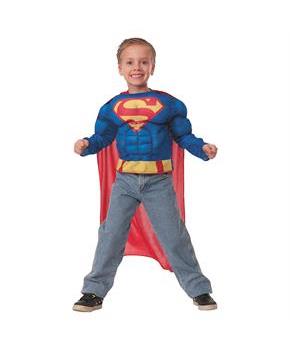 Boy's Superman Muscle Shirt Costume
Product Description
A quick and easy Superman costume for your child! Muscle chest shirt with classic Superman colors and insignia with attached cape. Fits child small size 4-6.
Lets admire Superman once again for his herculean strength, flying ability and amazing blue costume with red cape. Blue costume with yellow and red emblem on chest with S letter and a red cape describes the Man of Steel, Superman. The Big Blue Scout Boy is always loved by adults and kids for amazing Superman outfit.
Go for some cool and stylish costume of your favorite character. You can't think of any boring theme outfit if you are shopping for your boy.
You can't look more prettier in our Boy's Superman Muscle Shirt costume.
---