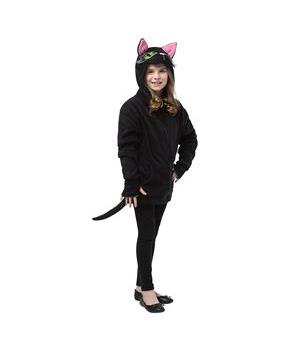 Hoodie Black Cat
Product Description
This black cat hoodie is so soft and cozy you will feel like purring! Made from cotton and polyester, this cat costume is both comfortable and cute. Featuring a front-zipper with attached cat tail, hood with big green cat eyes, a pink nose, and pink-lined ears! Perfect for an easy Halloween costume or to add a little fun to your everyday wear! Teen 13-16 fits chest sizes up to 42 inches.
Are you looking for a naughty mouse? Then first wear this amazing cat costume and then continue your search. Animal lovers love to dress up like their favorite animal. If you love cats and wants to be like a cuddly pet then go for this cat costume? Turn yourself into a feisty cat and pose like a funny kitty for a perfect click.
She will look amazing in our marvelous costumes. She must be dreaming about her favorite character so its time to turn her dream into reality with this beautiful party dress.
Make your costume party successful and memorable with Hoodie Black Cat costume.
---