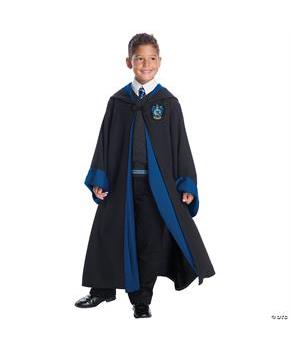 RAVENCLAW SET DLX CHILD COSTUME
This Product is currently out of stock!
Product Description
Look just like you stepped out of your favorite Harry Potter movie with this great new Ravenclaw student set! Ravenclaw House prizes learning, wisdom, wit, and intellect in its members. Thus, many Ravenclaws tend to be academically motivated and talented students. They also pride themselves in being original in their ideas, and methods.
Includes:
This set includes robe, deluxe heather knit sweater, and deluxe tie.
Add your own shirt and pants.
Fits child medium sizes 8-10.
Live a live with full of mysteries and magic tricks with Harry Potter. Wizard costumes are quite popular and must for magic theme parties. Who doesn't love Hogwarts School of Witchcraft and Wizardry? Harry Potter, Hermione Granger, Professor Dubmledore, Ron Weasley and all mysterious creatures created a great world of magic, witchcraft and super powers.
Let him wander in his imaginations and dress up like one of his favorite character. Get your boy ready for special trick or treat for Halloween eve in this costume.
Be yourself and enjoy a dramatic appearance with RAVENCLAW SET DLX CHILD COSTUME costume.
---
View more Products in Below Tags:
---