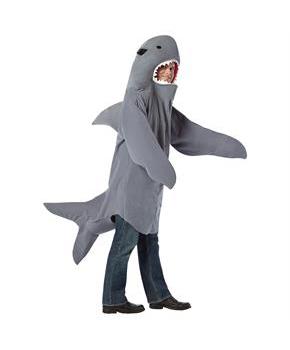 SHARK COSTUME
Product Description
Includes:
Da dum, da dum, da dum! This Halloween dress up as the toothy terror of the sea and you can hum that infamous theme song all night! This adult shark costume includes a gray polyester over-the-head tunic with attached tail and dorsal fin.
The sleeves look like pectoral fins and the hood is the shark head with the mouth as the face opening.
One size fits most up to 6 ft 3 inches, chest size 48-52.
Transform yourself into the most dangerous sea creature and let everyone run away with fear. Party time starts with thrill and shark costume actually brings ultimate excitement. No one can mess with Shark in the sea world as they got real sharp and deadly teeth. But you can anytime dress up like shark and be a ferocious sea creature. Pick a Halloween costume which is cute enough to attract your friends and bring real excitement in your party. Its time for our perfect Shark costume to unleash terror on the neighborhood
Men costumes got lots of varieties and they are ready for new experiments with looks. Are you really excited for getting a completely new look?
Lifetime adventure comes with small memories and SHARK COSTUME costume will give you amazing memories to remember.
---